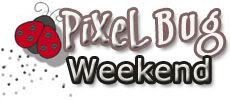 The end of April through around May 5th is called GOLDEN WEEK (National Holiday law). Many Japanese take paid time off on the intervening work days, but some companies also close down completely and give their employees time off. Golden Week is the longest vacation period of the year for many Japanese..
~Celebrating traditional Golden Week holiday with my Family~
With my Angels, Enjoying the gorgeous weather in Sakamiko Paddington bear's club.
We had a blast it was a great place for a nature lover like us. If you want to go and see the beautiful forest and lakes. This place is worth a visit.
How's your weekend guys? Join us here in
Sassy Mom's Pixel Bug.
Have fun !!