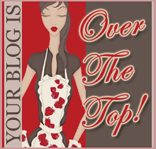 I receive this award from my dear friend Enchie the author of
Enchie of Sweet Nothing
and
From My Kitchen And Beyond
. Thank you sis for this fabulous award..
Each recipient of the award will acknowledge the person who honored them with the award and then go to Over The Top Aprons, copy/paste the award : Your Blog is Over The Top. (located on the right sidebar, scroll down)

I love to pass this award to the Over the top blogs!!! To
Shydub of Simple Happy Life
,
Clarissa of Kizuna
,
Beth Moreno of Trust.loyalty.bliss
and
Seiko's Diary
.

Happy Blogging =)
FC
Seiko's Diary