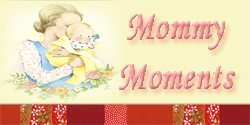 Another exciting theme to share here in mommy moments, and our theme for this week is all about
Name Games
... Japanese name usually written in
kanji
(Chinese characters), although some names use
hiragana
or even
katakana
, or a mixture of kanji and
kana
. While most "
traditiona
l" names use
kun'yomi
(native Japanese) kanji readings, a large number of given names and surnames use
on'yomi
(Chinese-based) kanji readings as well.
KEI ( 恵, けい)
in his family, and we decided that we should name our first child starting with
KEI
. My mother in- law did all the regular stuff she looked, searched and agonized over for a long time until we both agree that
Keina i
s the perfect name for her. The Japanese meaning of my
KEI
is Blessed and
NA
is respectful.
Rio
 (里緒)
Rio's name is simple and beautiful name. As a Japanese female name, Rio is written with the characters for "jasmine" (里) and "center; middle" (緒). Other possibilities include "jasmine" (RI) an "cord; strap; beginning" (o), as well as "village; parent's home" (ri) and "cherry" (o) another meaning of (RIO) is river.
Share your precious moments with us here in
Mommy Moments
. Happy weekend everyone !!!